"The Winged River Writer" Retreats in New Mexico

Leaping Deer Ranch - Las Vegas, New Mexico

---

Nourish Your Bones Writing Retreat
February 16, 17 & 18 - 2018 in Northern New Mexico
Nourish Your Bones Writing Retreat
Includes:
- Yoga
- Reiki
- Intuitive Writing- Connecting to Nature
- Connecting to Self and Reader
- All Organic - Chef Prepared Meals
- Reading and Sharing of Work (as desired)
- Rest/Relaxation and connecting to your inner author!
- Massage by holistic healer (extra fee)
Start with the customer – find out what they want and give it to them.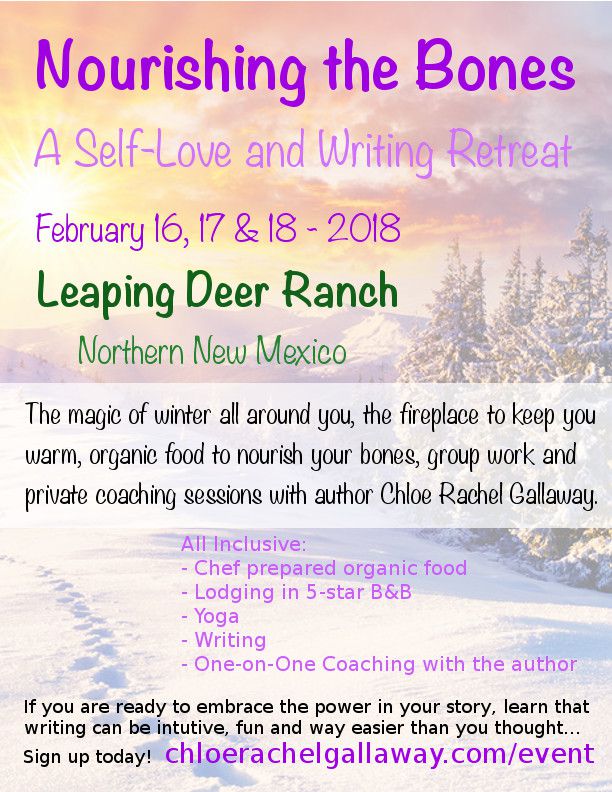 Description
The magic of winter all around you, the fireplace to keep you warm, organic food to nourish your bones, group work and private coaching sessions with author Chloe Rachel Gallaway!

---
Unleashing Your Story Writer's Retreat
April 20, 21 & 22 - 2018
Ojo Caliente Mineral Springs
Northern New Mexico

Includes:
- Healing Mineral Waters
- Writing/Private Coaching
- Nature Walks
- Transformational Group Work
- Two Night's Stay