Return To The Roots Of Story
Breakthrough to your writers VOICE in Taos, New Mexico


All-Inclusive 6/night 7-Day Writers Retreat
May 14-20, 2021
Taos Goji Eco Lodge - Northern New Mexico


taosgoji.com
Become inspired like other great writers at Taos Goji Eco Lodge...
Taos Goji Eco Lodge and Farm is nestled in the Sangre De Cristo Mountains. We have charming, historic log cabins for rent in close proximity to Taos, NM (11 miles) and the Taos Ski Valley and Red River (30 minutes). These fully furnished vacation homes are situated on a 40 acre goji berry farm. The cabins are surrounded by national forest with a great view of the Sangre de Cristo Mountains. Our location is a perfect event venue to hold small retreats, reunions and weddings with a 500 sq ft lodge space and a 1600 sq ft open barn.
Some of the cabins were built at the beginning of last century, originally used by sheepherders and were once the center of town. The English writer Aldous Huxley lived and wrote in one of the cabins and also built an outhouse that is still intact. We found watercolors by writer, poet and painter D.H. Lawrence as well as letters between himself and his wife Frieda in the attic. Elizabeth Kubler Ross, a pioneer in psychiatry and spiritual teacher Ram Dass has also stayed here. We raise organic goji berries and various breeds of chickens. We also have goats and alpacas. Fresh veggies and eggs are available seasonally.
Trading Post
Artist Retreat
Aldous Huxley's Cabin
Writer's Cabin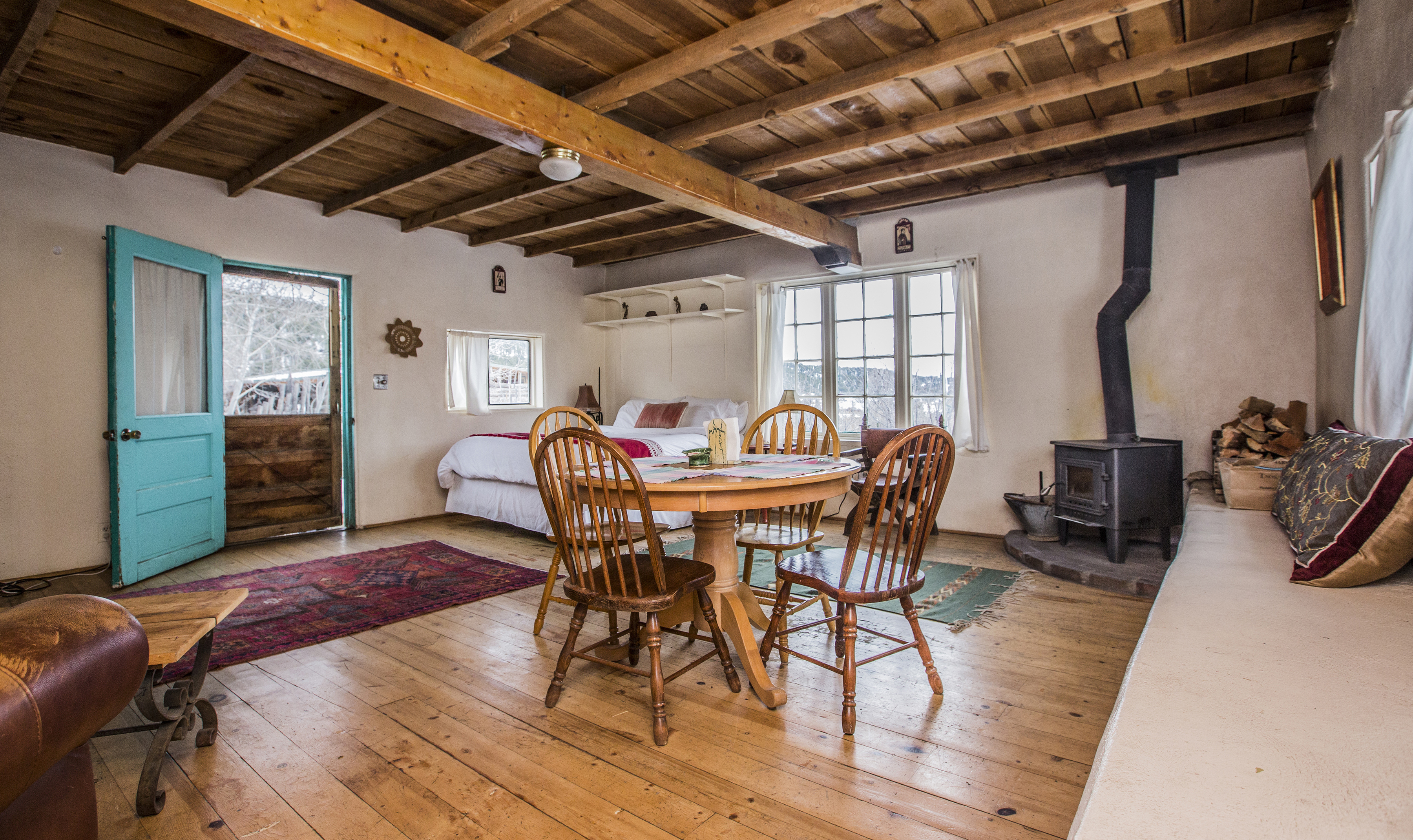 Poet's View
Pond Casita
D.H. Lawrence
Dorothy Brett
Frieda Lawrence
Georgia O'Keefe
Enjoy this All-inclusive retreat
Chef Prepared organic meals. Yoga. Nature walks.
Powerful group breakthroughs on your story.
Invaluable instructions for writing.
Craft and Intuition combined.
Alone time to write.
Integration of your story.
Structure and direction for going forward.
Day visit to Ojo Caliente Hot Springs.

Go from Feeling Alone in your Writer's Journey to All the Guidance and Support you need to Share Your Story with the World!
Don't let doubt and uncertainty stop you from sharing your powerful story...
Most people feel overwhelmed by how and where to begin with their story, when to find the time to write and how to put it all down on paper.
They dream of making an impact with their message & know it will be life changing.
Some common struggles have become extraordinarily clear over the years of my helping people write great books...
These struggles are evident in the heart of every writer:
Overwhelm: You don't know where to begin or how to get started on your story. You may not realize it, but your voice is buried underneath the weight of your story and your mindset about writing it. The good news is, it's about connection, and it's all inside of you!



Doubt: Do we really have something valuable to share & the ability to write it in a way that will do our story justice? Mindset issues are our number one form of resistance and when we take back our power, the story starts to flow from within us.



Self-Judgement: We feel that we are not a writer and don't know if we have what it takes to be one. It's a spiritual journey, a sacred journey of coming to know yourself inside of your story.



Lack of Experience and Tools: We don't know how to process the emotions that come up when thinking about writing our story. We neglect to realize that inside of our emotions lies a river of gold. Our truth, or voice, or higher wisdom it's all there, but we gotta brave our way through the pain and transcend old narratives. My truest gift in life is to help you do this and to be nourished in the experience!
This retreat is for you if you are:
Ready to step into your most authentic writers voice. Ready to integrate all the parts of your story through a powerful writing process...
You're ready to claim your voice
You're ready to deep dive into narrative and craft with more wisdom
You have been looking to start or finish a book
You long to feel the empowerment and accomplishment of sharing your own story (Which will start at the retreat and go beyond.)
You desire to find the gifts in your story, layered beneath the pain
You understand the value in investing in yourself when it's aligned
You want to truly understand the power of learning to write in a way that connects to your reader. You want to continue with the power of story
You are wanting to understand both structure and the writing of your story. You want to embrace the intuitive process combined with craft of story.
If the thought of starting or finishing your book feels heavy, stuck or long overdue, then step into this experience, returning to the roots of story is an opportunity to birth the writer and the story from within. (All levels welcome.)
Get the All-Inclusive Retreat (a $5K Package for this all-inclusive retreat)
Offered at the discounted price of 4,250 + tax, one time payment for private room
Shared rooms offered at 3,500
Reserve Your spot with a monthly payment of $555 today!
Ask about our flexible payment plans ( if needed during this time we can extend out to 9 months)
Reserve your spot today...
Get the Full-Pay Discount of 4,250!
Or, make a down payment
Start your 9 payments of 555...
Interested but Undecided?